Party Food!
Crunch, crunch, crunch is the rhythmic sound I hear beneath my feet as I walk on frozen grass. The sound turns to the crumble, crumble, crumble of the frozen mud on the Desire Path. Last night's fog has frozen in the air, coating every leaf, every branch, every twig and every blade of grass in a crystalline sheath of ice. Tongham Wood is a winter wonderland this morning.
Christmas is coming, the goose is getting fat and 'tis the season to get your Thermomix cranking out some fast and easy, gorgeous party food!
I've got a party tonight and my inspiration for what to bring comes from my fellow Independent Thermomix Demonstrator Nora's "Journal of a French Foodie: French cuisine, the fast and easy way." Nora takes her favourite French recipes and adapts them for Thermomix, for your greater gastronomic pleasure – and mine!
I've never had panna cotta before and I've always wanted to try it, so Nora gave me the perfect excuse with this gorgeous savoury version. I've tweaked it a tiny bit to keep it soft in texture, and to give it a slight sharp edge to cut through the cream and cheese by adding a splash of Walnut Vinegar. It's absolutely delicious, and perfect for a party. Many thanks, Nora!
Nora's Gorgonzola Panna Cotta, Honey and Chutney Verrines
Original recipe source: Mathon verrines. Adapted for Thermomix by Nora. Makes 12 small verrines (large shot glasses) or 6 starter size portions. Looks great in a martini glass!
Ingredients
For the Chutney:
150 g onions, peeled and quartered
1 Granny Smith apple, peeled, quartered and cored
2 cm fresh ginger, peeled and sliced into 2mm "coins" along the lines of the skin
375 g fresh figs, quartered
75 g brown sugar
45 g raisins or sultanas
3 whole cloves
1 ½ tsp ground coriander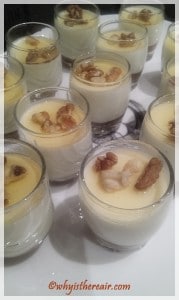 For the Panna Cotta:
80 g Gorgonzola
400 g double cream
1 gelatine leaf
1 tsp. walnut vinegar or Sherry vinegar
To serve: Honey or Agave Nectar and toasted walnuts
Method
Place the gelatine to soak in a bowl of cold water.
Make the chutney: Place the onions, apple and ginger in the TM bowl and chop 3 seconds/Speed 5. Add the rest of the chutney ingredients and cook 20 minutes/100°C/Speed 1, measuring cup OFF or until it has reached jam consistency (to test, place a tiny amount on a cold plate, and push slightly with your finger. You should see wrinkles; if not, add 5 minutes cooking at a time and repeat test). Tip out into a bowl and reserve. If you can still see them, fish out the whole cloves 😉
Make the panna cotta: Clean the TM bowl and weigh the cream into it. Cook 4 minutes/90°C/Speed 1.
Add the Gorgonzola and cook 1 minute/100°C/Speed 4.
Add the drained gelatine and the vinegar and mix 10 seconds/speed 3.
Assemble the verrines: Place some chutney at the bottom of each verrine. Gently pour the Gorgonzola cream onto it. Leave to cool, then refrigerate for 2 to 4 hours or until the cream is set. Just before service, pour some honey or agave nectar on top and place a toasted walnut on each verrine.
Bon appétit !