Baked Belgian Endive with Ham and Cheese, My Way
"Endives au jambon" is a classic French winter dish that quite frankly leaves me cold. So to put a bag of lovely Belgian endives to tasty use, I decided to jazz up the recipe a bit by adding a shallot and a pinch of spice to the creamy béchamel sauce. Now my Baked Belgian Endive with Ham and Cheese is a hearty as well as tasty dish that even ThermoHubby John appreciated 😉
With apologies to my Australian readers who are reading this for the first time in the middle of the Southern Hemisphere summer, here is my version of this Northern Hemisphere winter dish, Baked Belgian Endive with Ham and Cheese. It's a great way to use your Varoma steamer, too!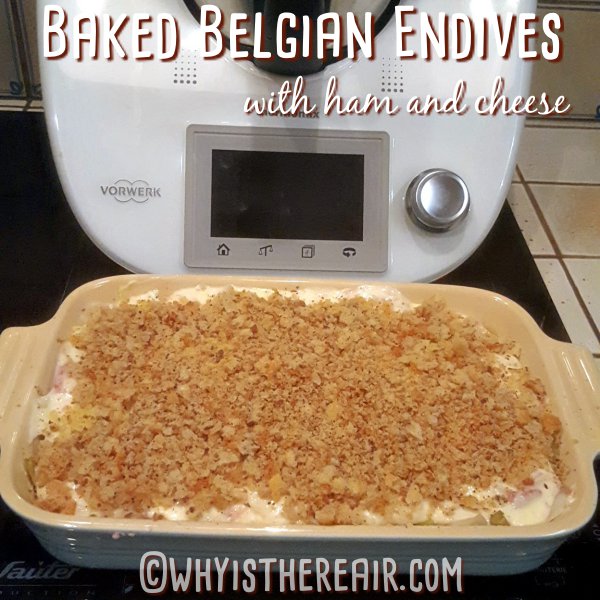 Baked Belgian Endive with Ham and Cheese, My Way
2017-02-09 06:58:07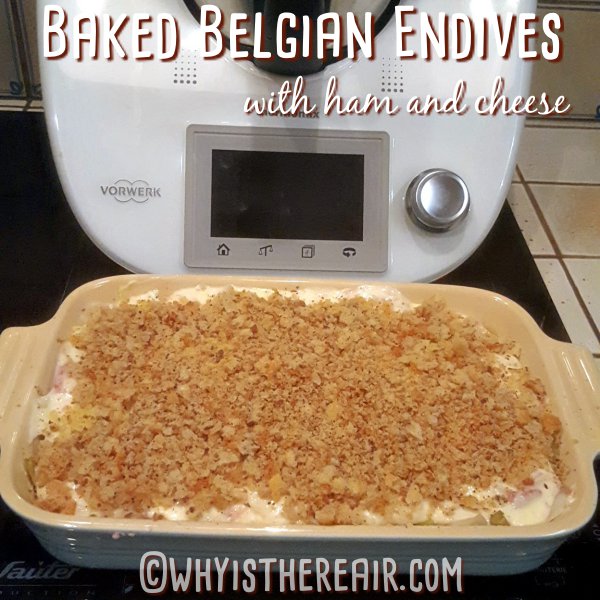 Serves 2
This is my way to jazz up a rather staid, traditional winter dish, by adding some shallot and a pinch of hot pepper 😉 Can easily be doubled.
Ingredients
2 large or 4 small slices of ham
4 Belgian endives
For the béchamel sauce
40 g butter and a bit more to butter the dish
1 shallot
40 g flour
½ tsp salt
freshly ground black pepper
1 pinch of ground nutmeg (a classic) or Cayenne pepper (a bit more adventurous!)
400 g milk (cow, almond, rice or oat all work well)
To finish
50 g stale bread
100 g cheese (emmenthal, cheddar, etc.)
You will also need
an oven-proof dish
Make breadcrumbs
Add bread to TM bowl and Turbo pulse to create breadcrumbs. Tip out and reserve.
Grate the cheese
8 seconds/Speed 7. Tip out and reserve.
Chop the ham
5 seconds/Speed 4. Tip out and reserve.
Blanch the endives
Pull off the leaves of the endives and place them in the Varoma dish. Make sure to leave some holes for the steam to pass through. Add 500 g water to the Thermomix bowl, pop the lid on, place the Varoma and its lid on top, and cook 20 minutes/Varoma/Speed 2. (Optimise your Thermomix and the steam it's producing by cooking some eggs, some potatoes or other vegetables in the internal steamer basket at the same time!)
Once the cooking time is up, remove the Varoma and set it aside, then preheat your oven to 200° C.
Make the béchamel sauce
Add the sauce ingredients -except the milk- and chop 5 seconds/Speed 5. Add the milk and cook 9 minutes/90° C/Speed 4.
Add 75 g of the reserved grated cheese and the chopped ham and mix 7 seconds/Speed 3/Reverse.
Assemble the dish
Butter your oven dish and layer half the steamed endive leaves over the bottom. Spread half the béchamel/ham/cheese sauce over top, then make a 2nd layer of endive and sauce. Sprinkle the remaining cheese on top and finish with the breadcrumbs.
Bake 20 to 30 minutes until the sauce is bubbling and the cheese and breadcrumbs are nicely browned. Serve immediately with a glass of dry white wine.
Notes
This recipe can be easily doubled in either the TM31 or TM5. For a lactose-free version, use almond, rice or oat milk, olive oil, and omit the cheese.
Why is There Air? https://www.whyisthereair.com/