Galician Wild Garlic Pesto
As I have undoubtedly already mentioned, ThermoHubby John is very good at food and wine pairings. The other day, for a 6-course wine tasting dinner we hosted for some friends, he invented a Galicia-inspired pesto to enhance some seared monkfish which we paired with a very nice white Sancerre wine. He used parsley and almonds instead of basil and pine nuts, dried chilli for a bit of bite, red pepper for a touch of colour, and the traditional garlic and olive oil. Just writing this makes my mouth water!
Then on Monday, whilst shopping at a local market, I spied one of my all-time favourites, wild garlic. In springtime, Britain's woodlands abound with wild garlic, a very pretty edible plant with a pungent odour and a mild garlicky taste. In France it is called "l'ail des ours" or bears' garlic and I suppose that's because it smells like a grizzly bear! Regardless of name or aroma, wild garlic makes a delightful soup as well as a superbly-flavoured Wild Garlic Pesto. With great glee I stuffed a generous handful into a bag and decided I'd make some. Then I spied a gorgeous trout fillet and decided it would be the perfect match.
I took my culinary thoughts one step further and – not to be outdone by ThermoHubby John – I decided to use my wild garlic in his recipe and thereby created for your Thermomixing pleasure, Madame Thermomix's Galician Wild Garlic Pesto. I further tweaked the recipe to include a bit of orange juice and peel which, paired with the almonds, really brought out the flavours of my succulent trout. So go out into the woods (or to your local market), get yourself some wild garlic and a piece of fish and try it yourself!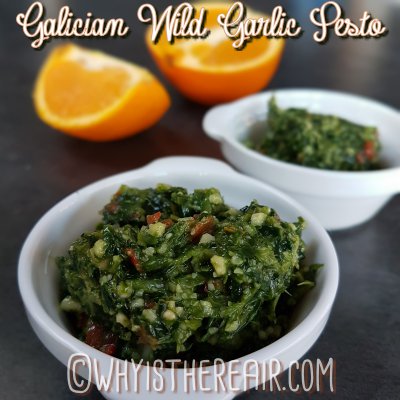 Galician Wild Garlic Pesto
2017-04-15 01:53:07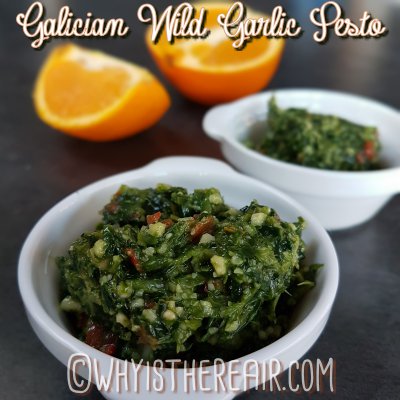 Serves 4
Inspired by ThermoHubby John's Northwestern Spanish musings, this recipe takes about a minute to make in your Thermomix. To keep it light I used only a small amount of olive oil. And because we used no cheese, this pesto happens to be dairy free. Serve it with fresh trout, salmon, or monkfish, or mix it into some fresh Thermomix pasta. The subtle taste of orange really lifts the flavour of the wild garlic, and the ensemble is enhanced by the almonds. Delicious!
Ingredients
30 g almonds
2 inches of orange peel
the juice of one orange
A generous handful of wild garlic (80 g or so)
50 g olive oil
about 1/4 of a red pepper/capsicum
one spring onion, cut into 2-inch/5 cm lengths
a good pinch of salt
several turns of black pepper
Instructions
Wash your wild garlic and pat it dry.
Add almonds and orange peel to TM bowl and Turbo pulse a few times to chop.
Add wild garlic leaves and mix 20 seconds/Speed 7, using your Thermomix spatula to push all the ingredients down onto the blade.
Add capsicum, spring onion, orange juice, olive oil, salt and pepper and mix again 20 seconds/Speed 5.
Scrape down sides of bowl and enjoy!
Notes
As an alternative, I had hand-diced my red pepper/capiscum and stirred it into the finished pesto with the Thermomix spatula. Bon appétit !
Why is There Air? https://www.whyisthereair.com/
Bon appétit with Why is There Air!