Light and Fluffy Hot Cross Buns
It's the run-up to Easter and hot cross buns are appearing in social media across the board – well, their photos, at least 😉 I was asked to bring something on an Easter theme to the Monday Thermomix meeting at our Branch Office in Chartres, and hot cross buns seemed to fit the bill quite nicely. It was also a way to share some of my Anglo-Saxon culture with the French. Now, I've made hot cross buns before, and since Frances, a former team member of mine in England posted a beautiful photo of super light and fluffy buns made from a recipe on the Australian Recipe Community I thought I'd give this new recipe a try.
The results were as expected: light and fluffy buns with delicious flavour. The original recipe states that it is a bit more complicated than some others, and I totally agreed. So I simplified it into this straightforward version for you to enjoy.
The delicious smell of the cinnamon and the ground mixed spice will enhance your home for a few hours after baking. It's almost like eating your buns, without the calories 😉
Bon appétit !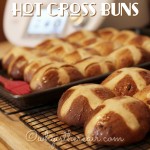 Light and Fluffy Hot Cross Buns
2016-03-23 04:44:27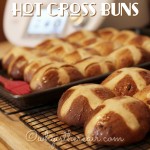 Light, fluffy and full of flavour, this simplified version of an existing recipe will produce great results for you!
For the Dough
30 g fresh yeast or 2 tsp (1 sachet) dry/instant yeast
620 g baker's flour (bread flour)
50 g sugar
380 g milk
1 1/2 tsp salt
2 tsp cinnamon
2 tsp ground mixed spice
60 g butter
1 egg
180 g sultanas/currants/cranberries etc
For the Paste for the Crosses
90 g baker's/bread or plain flour
100 g water
1 pinch salt
1 tbsp olive oil
For the Glaze
30 g water (use your handy measuring cup for this small quantity)
30 g sugar
Instructions
Put yeast, sugar and milk into the TM bowl and heat 3 minutes/37° C/Speed Spoon. Mix 5 seconds/Speed 5 to froth the mixture.
Add flour, salt, cinnamon, ground mixed spice, butter and egg. With the lid and the measuring cup on, hit the scales button and weigh your dried fruit on top. Set to knead for 4 minutes. With 1 minute remaining, remove the measuring cup and let the dried fruit fall through the hole in the lid and onto your dough. You can help this process along with the spatula if required.
Remove the dough from the bowl, shape it into a ball and set it into an oiled bowl. Cover with oiled cling film and let rise in a warm, draft-free place until your dough doubles in size (about an hour). You can rise your dough in your oven, preheated to 60° C; just turn off the oven when you insert your bowl.
Knock down your risen dough, put it back into your Thermomix bowl and knead again 4 minutes.
Preheat your oven to 200° C. Divide the dough into 20 equally-sized pieces. Roll each piece into a ball and place them close together on a greased baking tray.
Leave to rise again in a warm place, about 20 to 30 minutes or until your buns are 1.5 times their original size. They should all be touching now and looking lovely.
Make the paste for the crosses
Place all paste ingredients into a clean Thermomix bowl and mix 30 seconds/Speed 4, until you have a smooth paste.
Put the paste into a piping bag (or use a small plastic bag from which you will snip one corner after inserting the paste) and pipe crosses on your risen buns.
Bake your buns
Bake at 200° C for 20 minutes or until your buns are golden brown.
Make the glaze
Put water and sugar into a clean TM bowl and heat 2 minutes/100° C/Speed 4.
Using a pastry brush, glaze your hot cross buns as soon as they come out of the oven. Be careful, your baking tray will be hot.
Transfer to a grill to cool.
Notes
I just love @BethyN's tip for getting the dried fruit into the bowl. Absolutely brilliant!
Oiling your cling film before covering your bowl will stop the film from sticking to your dough.
Serve warm or at room temperature with a bit of butter and a good cup of tea.
The next day, your Hot Cross Buns will be nice toasted or grilled and spread with a tiny bit of orange marmalade.
The delicious smell of the cinnamon and the ground mixed spice will enhance your home for a few hours after baking. It's almost like eating your buns, without the calories 😉
Adapted from @BethyN's Aunt Barbara's recipe on the Australian Recipe Community
Why is There Air? https://www.whyisthereair.com/
Bon appétit !