Mom's Chili Con Carne, Thermomix style
ThermoHubby John brought home a bottle of Mexican wine this weekend and we decided that we'd drink it with some Chili Con Carne.
Now, you may recall that I grew up in America and even though we lived on the East Coast, Chili Con Carne was – and still is – a very popular dish, and my Mom use to make the very best one around. It is full of flavour and really delicious when accompanied by hot steamed Thermomix rice, some crème fraîche or sour cream, grated cheese, sliced spring onions/scallions, and a few sprigs of coriander leaves.
Chili Con Carne has become a classic dish for parties, the Super Bowl, when watching the footy or the rugby, and for family holiday gatherings. Use it to top a big platter of Tortilla chips for some mega nachos. Thermomix makes it a doddle to make, too.
The amount of chili powder will depend on your personal taste and on your chili powder. The one I got here in France is pretty good, but it's nowhere near as hot or as complex as a really good chili powder from America. So use it wisely, or add some and adjust to taste after the sauté stage.
And I even made my own minced beef as a bonus for you!
So here is my Mom's Chili Con Carne recipe, adapted of course, for the Thermomix 😉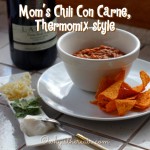 Mom's Chili Con Carne, Thermomix style
2016-04-04 13:54:09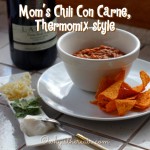 Serves 4
My Thermomix adaptation of my Mom's best-ever Chili Con Carne
Ingredients
1 small green pepper or half a large one, cut in large pieces
1 medium onion, peeled and halved
2 - 3 cloves garlic, peeled
1 small green chili, seeds removed if you want a milder taste
15 g olive or sunflower oil
250 g minced beef, or a mixture of minced beef and pork (or mince your own as below)
1 - 2 Tbsp chili powder
1 tsp oregano or herbes de provence
2 tsp salt
1/4 to 1/2 tsp freshly ground pepper
1 x 400 g tin peeled tomatoes
1 x 400 g tin red kidney beans
25 g double concentrate of tomato (tomato paste)
1 tsp Lea & Perrins Worcestershire sauce
Want to mince your own beef?
Get your butcher to sell you a very lean piece of beef and/or pork and cut it into pieces about 3 cm x 3 cm.
Put the lid on your Thermomix and weigh your meat pieces on top of the lid (no more than 300 g at a time).
With the blades running at Speed 6, drop all your meat through the hole in the lid and turn off your Thermomix just as soon as the last piece hits the blades.
Tip out and reserve. Repeat as necessary for your chosen recipe.
Be sure to thoroughly clean your Thermomix bowl and blade after working with raw meat.
Make your chili
Add green pepper, onion, garlic, chili and oil to TM bowl. Chop 5 seconds/Speed 5. Scrape down sides of bowl with spatula.
Add minced meat, chili powder, oregano, salt and pepper to bowl and sauté 5 minutes/100° C/Speed 1/Reverse blade function.
Add tinned tomatoes, kidney beans, tomato paste and Worcestershire sauce. Cook 30 minutes/100° C/Speed Spoon/Reverse blade function.
Keep warm in a ThermoServer or other, or use your 2nd bowl to steam some rice in the internal steamer basket, 20 minutes/100° C/Speed 2 1/2 to 4.
Notes
Can be doubled in the TM5 but only increase by 50% in the TM31 with its smaller bowl.
If doubling in the TM5, increase sauté time to 10 minutes, increase cook time to 35 minutes and increase speed to Speed 1/Reverse.
Delicious served with sour cream or crème fraîche, grated cheese, sliced spring onion/scallion, and some fresh coriander leaves. Nice with tortilla chips, too.
Adapted from Floss McCarty's Chili Con Carne recipe
Adapted from Floss McCarty's Chili Con Carne recipe
Why is There Air? https://www.whyisthereair.com/
Bon appétit with Thermomix and Why is There Air!