Super-Fast Dutch Oven Bread
OMG look what I just made, in only 1 hour and 10 minutes. No rising!!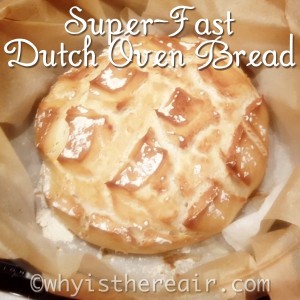 Super-Fast Dutch Oven Bread
2016-01-12 15:07:53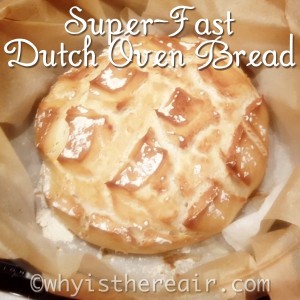 This gorgeous bread is a doddle to make. The rising happens inside the Dutch oven, which also locks in the moisture to create a super crusty loaf!
Ingredients
300 g water
1 sachet instant yeast - or - 25 g fresh yeast
500 g flour (in France we use plain flour, and you can use bread flour, or a mixture of flours including wholemeal, chestnut flour, etc.)
10 g / 2 tsp salt
a high-temperature-resistant Dutch oven (iron, ceramic, Pyrex, etc.)
2 lengths of baking paper
Instructions
Add water and yeast to TM bowl and heat warm 37°C/2 minutes/Speed 2.
Add flour and then salt and knead 5 minutes/dough setting.
Remove dough from bowl and form into a ball. Gently wet the ball of dough with your hands. Cut crosses into the top of the ball and dust with flour.
Cut two lengths of baking paper and arrange them in an X on your worktop. Place the ball of dough on top. Pick up the paper and transfer it and the dough into the Dutch oven.
Put the lid on and place your Dutch oven in a cold oven. Bake at 240°C for 1 hour.
Remove from oven (careful, extremely hot!), pick up the papers and remove your totally gorgeous loaf. Cool on a rack and enjoy!
Adapted from a recipe on the French Thermomix recipe platform and a comment by the Thermomix Chartres office
Adapted from a recipe on the French Thermomix recipe platform and a comment by the Thermomix Chartres office
Why is There Air? https://www.whyisthereair.com/