Yotam Ottolenghi's Kohlrabi and lime salad, Thermomix style
Kohlrabi? "What's that?" I hear you say. I didn't know myself until my green-fingered neighbour gave me six seedlings to plant in my own vegetable garden. I tended my seedlings and nurtured them into what looked like big, green aliens – a common description for this annual vegetable that Wikipedia calls "a low, stout cultivar of cabbage." This description, however, doesn't get me much closer to knowing what's accompanying tonight's dinner! A quick search on the internet resulted in a long list of rather boring recipes and preparation methods, including raw, cooked, roast, puréed, grated… (I said it was a long list.) Then I came across Yotam Ottolenghi's Kohlrabi and lime salad in an article in The Guardian called "Loving the alien: Yotam Ottolenghi's kohlrabi recipes". A few Thermo-seconds later and it was love at first bite 😉
Ottolenghi's original recipe involves much laborious cutting of batons and produces a lovely dish. I can only trust the photos, however, because Madame Thermomix adapted it into a Thermomix instant salad that might take you five minutes from start to finish. Ottolenghi himself describes his Kohlrabi and lime salad as "Possibly the most amount of flavour packed into one of the shortest recipes I've ever written." And he's right. As my friend Gabriela Lerner of Radiant on Raw said when we were eating it, "All the flavours mix together and create something new." And delicious! Ottolenghi regularly gets high marks from me for his bold and often unfamiliar flavour combinations, and he's got a real winner here. He tops his dish with crème fraîche and sesame oil. I wanted a lower-fat version so I omitted the crème fraîche and added the sesame oil into the salad. Gorgeous!
So when your organic veg box serves up an alien or you spot a leafy satellite at the supermarket, grab a few kohlrabi, let your Thermomix do the work, and let Yotam Ottolenghi and Madame Thermomix take you on a fabulous flavour journey! And if by chance there are any leftovers, use your imagination and whip up something like a stack with a bed of home-made hummus and a layer of Kohlrabi and lime salad topped with fragrant, ripe tomatoes. Bon appétit!
Here's my first Thermomix recipe in my new printable Recipe Card format. I hope you like it! Please leave me a comment and let me know what you think of it 😉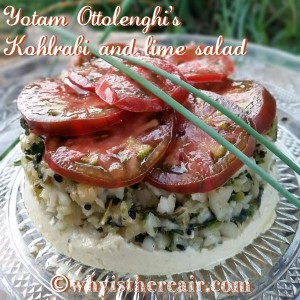 Yotam Ottolenghi's Kohlrabi and lime salad, Thermomix style
2015-09-15 14:37:42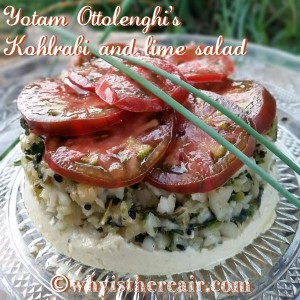 Serves 4
A fast and easy Thermomix version of a hugely flavourful salad created by Yotam Ottolenghi.
Ingredients
3 small kohlrabi, peeled and cut into chunks (500 g net weight)
2 granny smith apples, peeled (optional) and quartered
2 green chillies, deseeded
15 g picked coriander leaves
15 g picked mint leaves
10 g tarragon leaves
2 spring onions
1½ Tbsp. black sesame seeds
zest of 1 lime, plus 2½ Tbsp. lime juice
1 garlic clove, peeled
1 Tbsp. groundnut oil or olive oil
1 tsp. sesame oil
3/4 tsp. salt
Instructions
Place all ingredients into your Thermomix bowl and chop 2 seconds/Speed 5.
That's it!
Notes
Serve your Kohlrabi and Lime Salad at once. Use any leftovers to create a lovely stack with hummus, kohlrabi salad and fresh, fragrant tomatoes. Bon appétit !
Adapted from Loving the alien: Yotam Ottolenghi's kohlrabi recipes
Why is There Air? https://www.whyisthereair.com/