Thermomix Green Tomato Chutney
The weather here in Central France has changed. It's cold and damp and not only have I turned the heat on, I've had to admit that the last of my tomato crop will never ripen outside. Some of these babies will get nice and red in a paper bag in the kitchen, and I think the best thing for the others will be a luscious green tomato chutney.
I've never actually eaten it before so I don't have a family recipe to convert for my trusty Thermomix. I therefore turned my attention to the internet where I found a multitude of green tomato chutney recipes, with and without Thermomix. One of the first ones – and best, in my opinion – was on the website of the good folks at Riverford Organic Farms and it stood out for the use of fresh ginger and red chillies (both of which I love), and – you guessed it – apples, of which I have been thoroughly blessed this autumn. It seemed to be missing garlic, so I added some for an extra deep earthy flavour. And then I checked out some Thermomix recipes and figured out how to convert the Riverford recipe to my Best Friend in the Kitchen, and here is my creation. Although our friends at Riverford Organic Farms advise leaving your jars of green tomato chutney to mature for a whopping six weeks, I can say that my first taste out of the Thermomix bowl was really gorgeous. I'm not sure I can wait that long!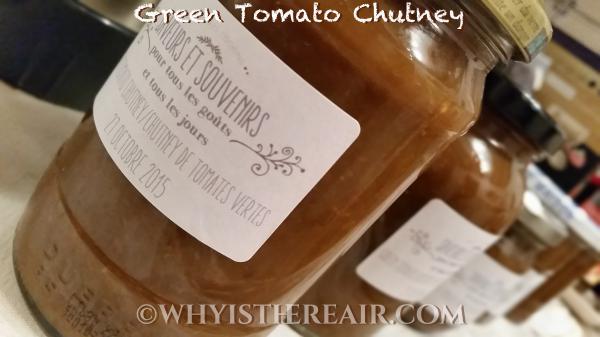 Thermomix Green Tomato Chutney
2015-10-27 17:08:29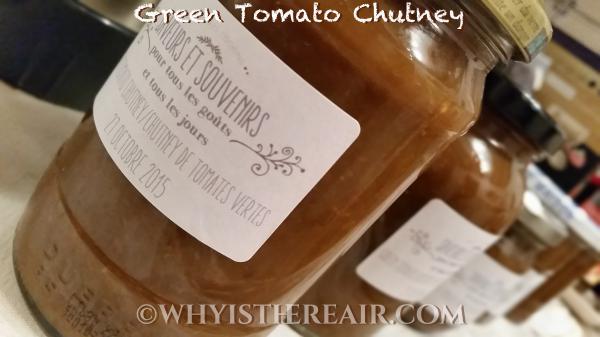 A deep and earthy combination of some of my favourite flavours, and a fabulous use for those late-season green tomatoes that won't ripen on the vine. Savour with cheese, spread on a ham or chicken sandwich, or go wild with some foie gras. Makes 4 jars.
Ingredients
15 g root ginger, peeled and cut in 2mm slices along the lines of the skin
2 or 3 small red chillies, seeds removed (or less for a milder chutney)
1 clove garlic, peeled
750 g green tomatoes, washed, divided half and half
350 g shallots or onions, peeled and quartered
200 g cooking apples, cored and quartered
300 g malt vinegar or cider vinegar
200 g brown sugar
¼ tsp. yellow mustard seeds
1 ¼ tsp. salt
100 g raisins or sultanas (optional but lovely)
Instructions
Drop ginger, chillies and garlic onto running blades at Speed 8; turn off.
Add half of the tomatoes, onion, apples, vinegar, sugar, mustard seeds and salt and chop 5 seconds/Speed 5. Scrape the sides of the TM bowl with the spatula, add the remaining tomatoes and chop again 5 seconds/Speed 5.
Add the raisins or sultanas and cook 45 minutes/100°C/Speed 3/Reverse blade function. Replace the measuring cup with the simmering basket to allow steam to escape and the chutney to thicken. When your chutney starts to sputter (which it invariably will), be sure to increase to Speed 4 to create a vortex in the centre of the bowl and stop boiling onto the lid. Check doneness and if not thickened, cook 20 minutes/100°C/Speed 3/Reverse blade function or until your chutney has nicely thickened. Don't hesitate to repeat if required, testing for doneness each time.
Pot into sterilised jars while the chutney is still warm. Seal and leave for 6 weeks to mature – if you can wait that long!
Riverford Organic Farms has some interesting tips on sterilising your jars
"Use sterilised jars for this recipe and pot the chutney into jars while they are still warm. If using old jars that still smell of the previous contents, add a little bicarbonate of soda and hot water, leave for a couple of minutes, wash and rinse well before using. Make sure any old labels are also fully removed. Sterilise the jars by washing and rinsing them and put in a pan of cold water. Heat until the water is boiling and boil the jars for 10 minutes. Alternatively wash and rinse them and place them upside down in a cold oven. Heat at a low temperature (160°C or 140°C if a fan oven) for 10 minutes. Sterilise the lids in boiling water too. Use metal lids only if they have a plastic lining to stop the vinegar reacting with the metal."
Madame Thermomix's Top Tips
I personally use either the oven sterlising method at just 120°C or I sterilise smaller jars in the Varoma of my Thermomix 😉 And don't forget to sterilise your jam funnel, too!
I always place my empty jars on a folded tea towel before filling with hot liquids. This helps absorb some of the heat and seems to prevent my jars from shattering. Always use caution when processing hot liquids!
Adapted from Riverford Organic Farms
Why is There Air? https://www.whyisthereair.com/
Bon appétit with Why is There Air!