Mannele, or Alsatian Christmas brioche men
My friend Anne-Catherine's mother was from Alsace and every year at Christmas she made mannele, which are little brioche in the form of men – because in Alsatian pâtois, mannele means men. These little brioche creations are the delight of children and adults alike, and are traditionally eaten on the 6th of December for the feast of Saint Nicolas. This year it was I who made the mannele for Noah, Anne-Catherine's six-year-old son, thereby continuing a tradition, keeping childhood memories of Alsace alive.
There are loads of recipes on the web for these delightful decorated brioche, and I chose one that gave the best results in terms of firm et moist dough that was easy to work with and easy to make. It comes from a French blog called L'émerveillée, where Marika makes us want to make and eat these mannele. I converted Marika's recipe for the Thermomix, and if you'd like to make your own mannele by a traditional method, you can visit L'émervéillée and follow her beautiful photos and her recipe in French.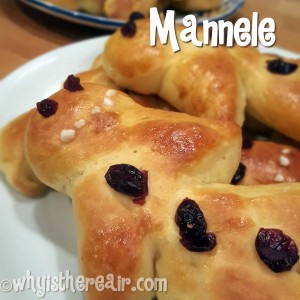 Alsatian Mannele, traditional brioche men
2015-12-06 14:09:11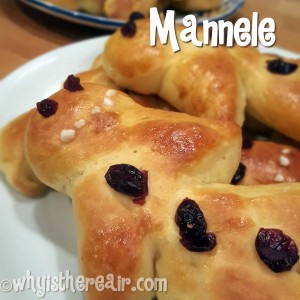 Serves 8
A traditional Alsatian decorated brioche for the feast of St Nicolas and all through the Christmas season
Ingredients
200 g milk
50 g sugar
25 g fresh yeast (or 1 packet dried fast-acting yeast)
600 g plain flour (divided 300 g + 300 g)
2 eggs
1/2 tsp fine sea salt
80 g salted butter, cubed
1 tsp orange blossom water (optional)
For decoration
1 egg, beaten with 1 tsp water
chocolate chips, almonds, raisins, sultanas, sugar chunks, etc.
You will also need
a mixing bowl and some cling film
one or two baking trays
baking paper
scissors
Instructions
Add milk, sugar and yeast to TM bowl and warm 2 minutes/37°C/Speed 2.
Add 300 g flour, 2 eggs and salt. Mix 15 seconds/Speed 5.
Add remaining 300 g flour, the butter and the orange blossom water if using. Knead 6 minutes.
Remove the dough from the TM bowl by upturning it on a floured board or work surface.
Form the dough into a ball, place it into an oiled mixing bowl, cover with cling film and set aside to rise for an hour or two. Alternatively, place your covered bowl in the oven warmed to 40°C if possible (or 50°C if your oven doesn't go that low) for 30 minutes to an hour or until your dough has really doubled in size. Remove from bowl and hand knead a few times.
Divide your raised dough into 8 to 12 pieces.
Make your mannele by forming each piece of dough into a cylinder. Squish the top into a head, then make a vertical cut to create legs, and two angled cuts to make his arms.
Brush with egg and water, then decorate as you wish. Let the kids help and have some fun!
Rise in the oven for 30 minutes at 40°C if possible or at 50°C until your mannele are nice and plump. Or, do your second rise at room temperature or in a warm place for an hour, covered with a clean tea towel.
Increase oven temperature to 180°C and bake 10 to 15 minutes, covering with baking paper or aluminum foil to avoid scorching. If you have raised your little brioche men outside the oven, pop them directly into your preheated oven at 180°C for 10 to 15 minutes, until your mannele are golden brown.
Remove from oven and cool on a rack.
Serve on Saint Nicolas day with hot chocolate and clementines, and all during Advent for a well-balanced Christmas snack. They are also delightful when dipped into Champagne 😉
Notes
I really like this recipe because the proportions yield a dough that holds together, is easy to form and work with, and remains moist as ever.
Bon appétit with Why is There Air!
Adapted from L'Émerveillée
Why is There Air? https://www.whyisthereair.com/