Gluten free, Dairy free, Vegan and Vegetarian Coconut Milk Wraps with Sweet Chilli and Lime Dipping Sauce
ThermoHubby John was stuck one afternoon at the airport in San Luis Obispo, California when he saw a video advert for a restaurant in Morrow Bay that was serving Coconut Milk Wraps that looked enticing. He promptly jotted down the idea and the fillings and told me about it when he got home. The idea has been maturing in his mind ever since, and this weekend we played around a bit and came up with our Gluten free, Dairy free, Vegan and Vegetarian Coconut Milk Wraps with Sweet Chilli and Lime Dipping Sauce.
John was amazed at the subtle yet sustained coconut taste, and at how naturally the fillings went with them. We chose to fill our wraps with what we had in the refrigerator, which on Saturday amounted to a bag of baby lettuce leaves, the last courgette from our garden as well as some homegrown spring onions. The last few glugs from a bottle of sweet chilli dipping sauce got mixed in with some lime juice and the whole thing was surprisingly, deliciously effective.
This dish is simple and full of goodness and flavour. It's a great way to get the kids to eat their vegetables, too. The wraps themselves are little coconut flour crêpes or pancakes that while they are savoury, have an irresistible sweetness to them that brings an added dimension, a certain je-ne-sais-quoi, to the lettuce and courgette batons. And the mixture of sweet chilli sauce and lime juice is just divine!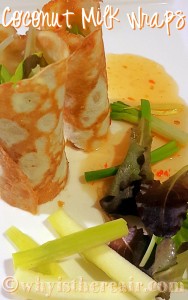 Coconut Milk Wraps with Raw Vegetables and Sweet Chilli Sauce
2015-11-09 15:35:01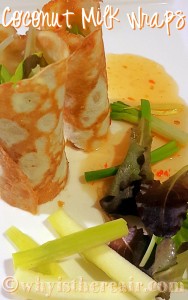 Serves 2
A surprisingly subtle sweetness exudes from these gluten free, dairy free, vegan and vegetarian wraps filled with goodness! Makes 5 or 6 pancakes about 15 cm/6 inches in diameter. Let everyone fill their own crêpe and get the kids enthused about eating vegetables 😉 And nothing says you couldn't add a bit of shredded pork, some prawns or chicken to include some protein and turn this starter into a main dish or a quick lunch.
For the coconut milk crêpes/pancakes
15 g coconut oil, plus more for the pan
20 g coconut flour
2 eggs
1/8 tsp salt
125 g coconut milk
For the sauce
1/4 cup sweet chilli dipping sauce
juice of one lime
For the filling
a selection of raw vegetables such as
lettuce leaves
courgette or carrot batons
thin slivers of spring onion
grated or very thin slivers of fresh ginger
Make the crêpe batter
For the traditional method, follow the "Adapted from" link at the bottom of this recipe card.
Thermomix method
Melt the coconut oil in the Thermomix bowl 1 minute/37°C/Speed Spoon.
Add the remaining crêpe ingredients and mix 30 seconds/Speed 9.
Scrape the sides of the TM bowl with the spatula and mix again 10 seconds/Speed 9.
Cook the crêpes
Heat a small fry pan over medium heat. When hot, add a bit of coconut oil and coat the bottom of the pan. Pour a small ladle of batter in the pan and swirl it around to cover the bottom with a thin layer of batter about 15 cm/6 inches in diameter.
Cook for a good 2 minutes until the edges are very nicely browned and the pancake slides in the pan. Ever so gently flip the pancake and cook another 1 to 2 minutes. Reserve on a plate.
Continue as above with the rest of the batter; you should just have enough to make a pile of 6 crêpes.
Prepare your filling ingredients
Wash salad leaves if required; cut courgettes and other veg into batons or little sticks. Place in small bowls or plates and bring to the table along with the plate of crêpes.
Prepare the dipping sauce
In a small bowl, mix pre-prepared sweet chilli sauce and lime juice.
Assemble your wraps
ThermoHubby John filled his 1st pancake with a small bit of each of our raw veg, very delicately rolled and cut it in two, and dipped each half in the dipping sauce. These coconut flour crêpes are fragile so be very careful.
I assembled my wrap as I would a crispy duck pancake wrap: a swirl of sweet chilli lime sauce on the pancake, then a few lettuce leaves and some batons of courgette and spring onion. A gentle roll, a swipe of the knife and there I was with a delicious starter.
Notes
These crêpes look much like wheat flour crêpes but beware, they are much more fragile so handle with care, both while cooking and while rolling!
Adapted from an idea from a restaurant in Morrow Bay, California; crêpe recipe from Power Foods Fitness
Why is There Air? https://www.whyisthereair.com/