15-minute Fat-Free Beef Curry
I'm doing another round of the fabulous Changing Habits 4-Phase Fat Elimination Protocol and in Phase Two I eat totally fat-free. If you've ever done the protocol, you'll know how good something other than steamed meat and veg can taste, LOL! This lunchtime I fancied a wee beef curry.
I was in the middle of gardening and didn't want to spend too much time cooking, so I took my allocated foods and transformed them into this curry. It's quite good, quite fast and should you not be on the Protocol you can add some oil if you like 😉
My chosen vegetable today was asparagus which I cooked in the simmering basket while my curry was cooking, and made the most of my Thermomix and my electricity. I cut it into 3-cm lengths and it came out perfectly. You could cook any other vegetable instead, Protocol or not; just prepare it so it will cook in 10 minutes. For added variety, I served some of it in Little Gem lettuce boats: no carbs; no forks; just delicious!
So here we have my latest fast and easy Thermomix recipe for a 15-minute Fat-Free Beef Curry. Enjoy!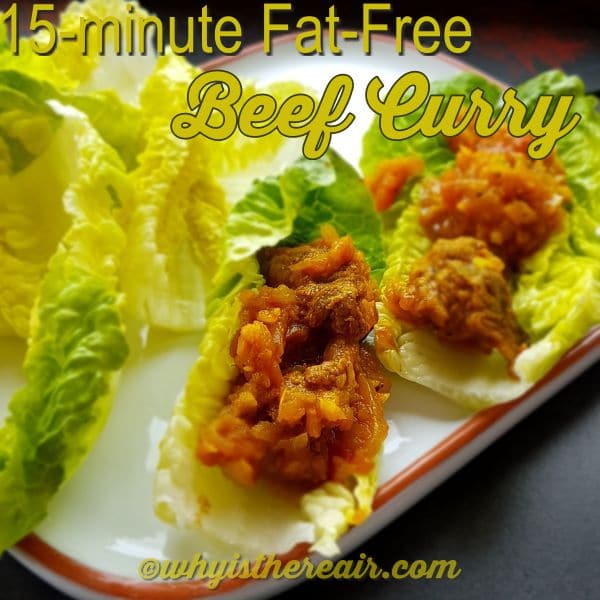 15-minute Fat-Free Beef Curry
2017-07-21 16:44:01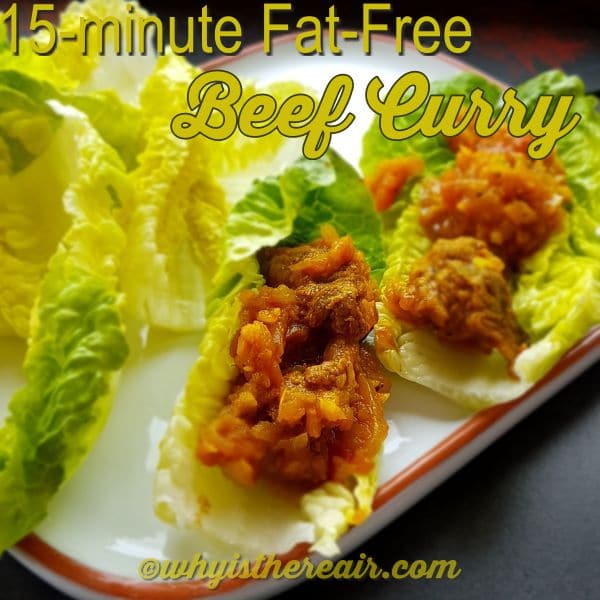 Serves 1
A fast and easy fat-free curry to jazz up your 4-Phase Fat Elimination protocol. Use beef, lamb or chicken as your protein, and steam your vegetable in the simmering basket while your curry cooks. If you're having cauliflower, break it up into cauliflower rice before you start (a few seconds on Reverse at Speed 5). Enjoy!
Ingredients
1 onion, peeled and halved
1 or 2 cloves garlic, peeled
1 to 2 inches fresh ginger, cut into 2mm coins along the lines of the skin
some green chili, seeds in or out, as much or as little as you like
1 to 2 tsp curry powder
100 g lean beef (or lamb or chicken breast), cut into thin strips
1 tomato, diced
1/2 MC of water, i.e. 50 g
salt and pepper to taste
1 cup of your chosen Protocol vegetable, cut or broken into small pieces, florets, etc.
little gem lettuce leaves, to serve (optional but nifty!)
Instructions
Add onion, garlic, ginger, chili and curry powder to TM bowl. Chop 5 seconds/Speed 5. Scrape sides of bowl with spatula.
Add beef (or lamb or chicken breast) strips and sauté 5 minutes/120° C TM5 or Varoma setting TM31/Reverse blade function/Speed Spoon, MC OFF to let steam escape.
Place your vegetable in the simmering basket, making sure to leave some visible holes for the steam to circulate.
Add diced tomato, water, salt and pepper. Insert the simmering basket and cook 10 minutes/100° C/Reverse/Speed Spoon.
Serve on top of cauliflower rice or in cute little lettuce boats.
Notes
Bon appétit !
Why is There Air? https://www.whyisthereair.com/